---
Insulation

American Outback Buildings offers Low E insulation manufactured by Environmentally Safe Products, Inc. as an option for all our Steel Buildings. Low-E is produced from non-toxic polyethylene foam heat laminated between two surfaces of 99.4% pure aluminum facings. Low-E insulation resists all three types of heat transfer: convection, conduction, and radiation. This space age product also provides a full vapor barrier with sound deadening properties. Low-E is primarily used in general construction, under roofing , or in walls as part of the buildings insulation system. Large lightweight rolls allow for easy installation.
| | |
| --- | --- |
| | |
Reflective Insulations work differently than conventional mass insulations. Depending on the airspace provided they can achieve high r-values but the most important benefit is their ability to stop radiant heat transfer. A pure aluminum surface has a very low e-value, which means it actually re-radiates or reflects heat transfer. Unlike mass insulations which absorb heat Low-E acts as a Thermos® Bottle by keeping heat in your home in the winter and stops heat gain in the summer.
Low-E is manufactured using a 1/4" polyethlyene foam core with scrim reinforced double sided aluminum facings.
Benefits of Low-E Insulation:
Saves time and money
Non-toxic, no fiberglass = no itching
Excellent vapor barrier
Installs easily with razor knife and foil tape
Class A, Class 1 Fire Rating
Superior thermal performance
Reduces condensation
Improves insulation systems performance
Insect Resistant
Seals Tight Around Fasteners
Also available in white
Low-E Insulation Data Sheet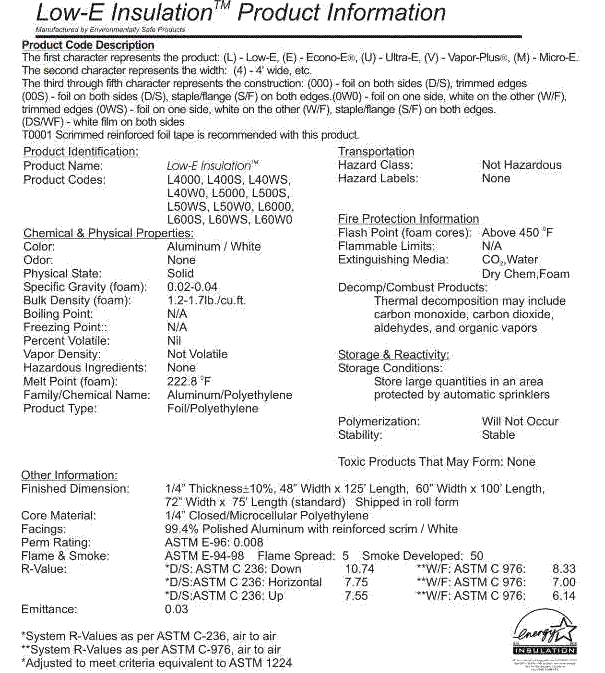 For the heaviest R-Values, we recommend combining the ESP foil insulation with reinforced fiberglass insulation in the thickness required to meet your desired R-Value.
---
American Outback Buildings, LLC. P.O. Box 10425, Lancaster, PA 17605-0425
Phone 717 464-2900 or Toll Free 1 877 723-2897