---

WDS Fasteners
American Outback Buildings uses quality fasteners manufactured by WDS Sales International Inc, a privately owned company, based in Portland, Oregon. They import, package and distribute the fasteners required for steel shed construction.
Their sister company, WDS Sales and Packaging, P/L, is based in Sydney, Australia. Established in 1983, it is the leading supplier of prepackaged fasteners in the Australian steel shed industry.
Australians have been building steel frame sheds for many years and the manufacturing and construction techniques are very specialized. We have been working with ITW Buildex (Australia), an American owned company, in the development of a number of new products. Most of the products supplied by WDS Sales International Inc. are unique to the USA, as they are only manufactured in Australia.
It is very important to us that our clients have total satisfaction with the products and services that we supply. We strive to provide the highest quality in order to minimize problems with application and those associated with sub standard products.
HiGrip® The Better Roof Fixing
HiGrip® Tip Detail
HiGrip® Tip Detail
HiGrip® Features
Purlin Fasteners
ShankGuard®
ZACS 4®
Crest vs Pan Fixing
---
HiGrip®—The Better Roof Fixing

HiGrip® is a revolutionary design in roof fasteners that overcomes the traditional problems with crest fixing metal roofing to steel or timber.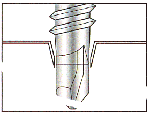 Normal roofing screws often create an indent area around if the operator uses too much force while drilling
HiGrip® is a secondary thread located at the top of the shank under the washer face. During installation the thread of the HiGrip® carries the roof profile in an upward motion; while the washer face is carried into the fastener in the downward motion.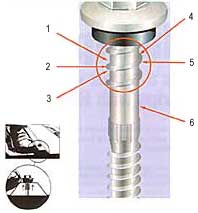 1. The operator feels the thread bite, a clear signal to prevent over–drilling.
2. Restricts 'over–drilling' which leads to ponding or dimpling.
3. Prevents sheet moving down shank when roof is walked on.
4. Grips sheet to provide 'positive' joint with EPDM washer.
5. Extrudes metal around the fastener hole upwards making water ingress more difficult.
6. Unthreaded shank prevents profile riding up during fixing.

WDS Fasteners offers the only pre-assembled Purlin Fasteners in the industry.

Under roof corrosion of roofing fasteners is a great hidden danger. All protective coatings are subject to damage during installation. This damage is a scratching by the roof sheeting along the shank of the fastener.
Corrosion—Fasteners ARE the weakest Link.
Fasteners made from normal alloys are subject to corrosion. Protective coatings placed on fasteners follow the principles of "galvanic protection". Fasteners are rated by the degree they resist corrosion.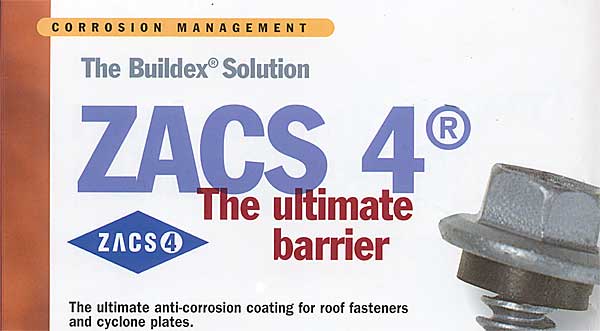 Class 1—For general internal use where corrosion resistance is of minor importance.
Class 2—For general internal use where significant levels of condensation occurs.
Class 3—For general external use in mild and moderate industrial and mild marine applications. This class is intended for roofing and cladding screws in standard applications.
Class 4—A proposed class for external use in moderate and severe marine environments up to 400 meters from the shoreline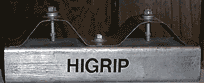 Crest Fixing
Crest fixing is more flexible—difficult to break the washer.
Fastener will flex with the sheet which eliminates the wear of expansion and contraction.
No water damming around the fastener heads.
Saves Money! No Leaks! No Call Backs!
Pan Fixing
Pan Fixing Leaks! Expansion and contraction causes leaks.
More Leaks! Fasteners spew, break or the washer flattens when hand fixing.
Water dams in the pan causing leaks.
Damming of pollutants, salt, acid rain, industrial fall–out which accelerates corrosion.